February 26, 2023
In EUSD, every student is a valued member of our school community! When students miss school, they are missed by the caring adults on campus.
Daily and on-time school attendance not only helps support our students' connection to school and learning, it is a key indicator of future success.
Our students and families receive attendance support that is above and beyond thanks to the leadership of EUSD Attendance Intervention Specialist Maria Osborn and attendance support team members at every campus.
"We want to do whatever we can to help support our students and our families," Osborn said. "Regular attendance is a life skill that will continue to help students throughout elementary school, middle school, high school, college, and beyond. When our students experience unusual or excessive absences, we worry even more about the impact of their absences on school connection and learning."
The District Pupil Re-engagement Team works with school site attendance team members, students, and families to offer support with school connection, improved school attendance, and other areas of need, including making connections to community-based resources.
"We're here to offer support that will help our students feel more connected to school and ready to learn," Osborn said. "We meet with families to talk about any concerns and learn more about the attendance barriers that a family may be facing. Together, we develop options that will help reduce attendance barriers."
Since the start of the 2022-23 school year, the District Pupil Re-engagement Team has reached out to families whose students are struggling with attendance, conducting more than 700 home visits and more than 100 attendance support team meetings. At the heart of this outreach is a deep dedication to doing everything possible to ensure the health and well-being of our students.
Connection and communication are essential, Osborn said. "We all work together to help students feel connected to their school and to learning. And we communicate with families to understand the reasons for unusual or excessive absences so that we can provide assistance and support."
Of course, the past two years of teaching and learning through a pandemic have had a significant impact on attendance. As we continue to move forward, absences are understandable when a student is sick. However, missing 10 percent or just two days a month can cause them to fall behind academically or feel disconnected from school. We encourage parents and guardians to contact your school site if they are experiencing any challenges to daily school attendance for their child.
"Education is the most powerful tool that you can use to change the world," said Principal Elizabeth Ramirez of Rock Springs Elementary. "We strive to make school a place where children come to be inspired, to try new things, in a safe space, so that they look forward to coming to school, to being part of their school community."
Every school day counts when it comes to student success! We appreciate your support and encouragement for consistent student attendance for a strong finish to the second trimester, which ends Friday, March 3. Second trimester report cards will be issued Friday, March 10. Report cards for elementary school students will be distributed at school. Report cards for middle school students will be delivered by mail.
Here are this week's updates and reminders.
Apply to specialty schools: The school choice application window for EUSD specialty schools Limitless Learning Academy and Quantum Academy will close Tuesday, February 28. The application for these schools for the 2023-2024 school year is available online. As specialty schools, enrollment for Limitless and Quantum takes place through the EUSD School Choice Intradistrict Transfer program. Limitless Learning Academy serves grades Kindergarten through 8th grade in a blended learning program. Students are in class online from home in the morning with their grade-level classroom teacher, and join enrichment activities and academic support either online or in person on campus in the afternoons.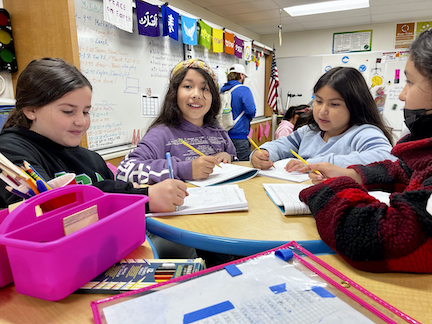 Quantum Academy is a project-based learning STEAM school focusing on student choice for grades 4 through 8. Every Quantum student has a personalized learning plan, with goals outlined for math, English language arts, and social-emotional learning.
Your voice matters: Our annual LCAP Priorities Survey is now open, and we value input from all EUSD stakeholders. This survey focuses on specific priority areas, including student achievement, family engagement, interventions and enrichment, social and emotional supports, and safety. The LCAP is a blueprint tied to state funding that describes how our schools support the success of all students and spending priorities for such initiatives. This survey seeks feedback on current performance, areas for improvement, allocation of resources, and future goals. Responses are anonymous. The survey is open here through March 19. Thank you for your time and input.
Work with EUSD: The next EUSD hiring fair is scheduled for 8:30 a.m. to noon Tuesday, February 28, at the district office, 2310 Aldergrove Avenue. Human Resources team members will guide individuals through the application process, including any necessary job assessments for numerous essential full- and part-time positions across the district. Please review the event details and pre-register on Eventbrite. On-campus and district office positions include paraeducators, nutrition assistants, noontime supervisors, licensed vocational nurses, speech language pathology assistants, and more. Employees who work more than five hours a day are eligible for enrollment in EUSD benefits and retirement programs. Find all employment opportunities here.
Transportation meeting: Parents and guardians are invited to share their input for a district Pupil Transportation Plan at a meeting at 4 p.m. Tuesday, February 28, at the Carilyn Gilbert Education Center, 2310 Aldergrove Avenue.
– Luis Rankins-Ibarra, Ed.D., Superintendent of Schools