January 22, 2023
In EUSD, every student is a fitness enthusiast! PE is an important subject in our district, with instruction led at every grade level by outstanding credentialed physical education teachers.
California was the first state to require physical education in public schools, thanks to a law passed in the 1860s. Of course, PE has evolved extensively, and it looks quite different than even just a decade ago. In 2015, EUSD expanded its roster of credentialed PE teachers beyond middle school to ensure that every elementary school has a dedicated PE teacher.
Every child in EUSD receives dedicated instruction time for physical education, from our youngest learners through 8th grade. And our adapted PE teachers provide specially designed instruction to ensure for students of differing abilities. Credentialed PE teachers at the elementary level provide a standards-based curriculum that has outcomes for each grade level in order to reach our ultimate goal of developing physically literate students.
"As PE teachers, we are striving each day to help our students reach their full potential," said Farr Avenue Elementary PE teacher Amber Terry. "Our goal is to instill in our students the knowledge, skills, and confidence to enjoy a lifetime of physical activity."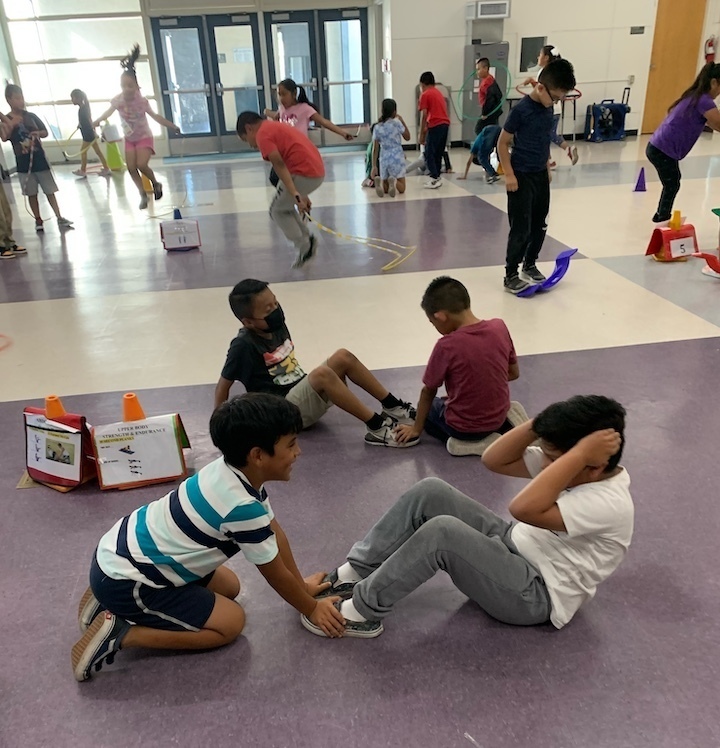 PE teachers accomplish this through numerous types of activities, Terry said. For younger students, there's a focus on developing locomotor skills through running, skipping, hopping, galloping, and jumping, and basic sports-related skills through throwing, catching, and striking. "We build upon those skills in the upper grades by adding concepts of offense and defense," Terry said, adding that some of the favorites among her students are hockey, jump rope, cup stacking, parachute activities, and flag tag. Students also learn the basics of many team sports like basketball and soccer.
Physical education also is an essential component of mental well-being, said Central Elementary PE teacher Trent Suzuki.
"An inspiring physical education program with energetic, credentialed PE teachers gives students an incredible advantage in the areas of overall physical and emotional development," Suzuki said. "Being exposed to a positive culture where life values such as work ethic, teamwork, accountability, and servant leadership are instilled and infused with standards-based, grade-level outcomes ensures that students acquire a wealth of physical education knowledge and daily social-emotional learning."
We are proud of the role that physical education plays in our commitment to the development of balanced, well-rounded students!
Here are this week's updates and reminders.
Work with EUSD: The next EUSD hiring fair is scheduled for 8:30 a.m. to noon Tuesday, January 24, at the district office, 2310 Aldergrove Avenue. Human Resources team members will guide individuals through the application process, including any necessary prescreening exams, for numerous essential full- and part-time positions across the district. Please review the event details and pre-register on Eventbrite. On-campus and district office positions include paraeducators, bilingual family liaisons, nutrition assistants, noontime supervisors, custodians, licensed vocational nurses, testing assistants, speech language pathology assistants, accountants, data technicians, and more. Employees who work more than five hours a day are eligible for enrollment in EUSD benefits and retirement programs. Find all employment opportunities here.
Join the conversation: We are eager to hear your thoughts as we develop our framework for the future with the Local Control and Accountability Plan, which outlines services and programs we provide to our EUSD community. Share your thoughts here via the interactive platform Thoughtexchange and follow the discussion focused on this guiding question: What are the most important skills, supports, and experiences EUSD students would need to reach their unlimited potential? More than 800 participants are discussing more than 300 ideas on Thoughtexchange, which is an interactive platform that provides an opportunity for you to share your thoughts, and to view and comment on the thoughts of others. We encourage you to return to the Thoughtexchange frequently to rate new ideas. We value your feedback, which will inform decision-making and prioritization of services in our district, as well as assist us in plans to allocate resources from the MacKenzie Scott donation. The Thoughtexchange will be available through January 31. Your confidential contribution to the conversation is essential as we continue to improve programs and services to our students, families, and employees.
Vaccination clinics: Neighborhood Healthcare's Saturday COVID-19 vaccination clinics are returning to Central Elementary and Mission Middle schools. The clinics are from 8 a.m. to noon on the following Saturdays: January 21, February 4, and February 18 at Mission; and January 28, February 11, and February 25 at Central. The clinics are free and open to community members age 5 and older. Appointments are encouraged but not required. Appointments can be scheduled online via My Turn. The Pfizer vaccines will be available – initial doses, children's doses, and boosters. Officials continue to recommend the vaccine as the safest way to acquire protection from COVID.
– Luis Rankins-Ibarra, Ed.D., Superintendent of Schools