November 13, 2022
In EUSD, every student is an athlete! All of our students get to move, stretch, flex, and more during the school day thanks to our physical education curriculum.
We take physical activity a step further by providing students with opportunities for after-school sports as well. EUSD is proud to offer such sports as volleyball, flag football, soccer, and basketball. This fall, we offered co-ed flag football at our five middle schools, in partnership with the Boys & Girls Clubs of Greater San Diego, fielding a full team each for 6th, 7th, and 8th grades. Our girls volleyball season is now underway, and basketball is just around the corner. In the spring, we are looking forward to hosting soccer leagues at elementary and middle schools.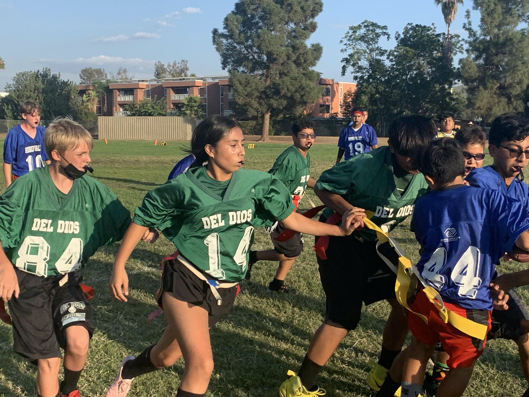 The benefits of sports activity for children are countless, with physical activity in general associated with improved academic achievement and classroom behavior, as well as a positive effect on self-esteem, social well-being, and overall mental health.
"It is exciting to watch our student athletes shine on the field and in the classroom," said Rick Oser, EUSD's director of Extended Learning and Enrichment. "The best part about these after-school sports programs is that they are open to all, with no experience necessary. This means that our students have the opportunity to try something new, or to continue growing their skill in a sport."
Here are this week's updates and reminders.
Rooms update: Thank you to our parents and guardians for your efforts to connect with your child's school through our new mobile app. We encourage you to use the Rooms tool in the app for direct communication with teachers. This is a great way to ask questions and stay informed! Watch this brief video about what Rooms can do for you.
6th Grade Camp: We are excited to share that space is still available for winter break 6th Grade Camp at Cuyamaca Outdoor School, scheduled for January 3 through January 6. An additional informational meeting will be held via Zoom at 4 p.m. Wednesday, November 16. Follow this link to access the meeting. All camp fees, including meals and transportation costs to and from Cuyamaca Outdoor School, will be covered by EUSD. If you are interested in this opportunity for your child, please complete the camp interest survey.
Report cards: The first trimester of the 2022-2023 school year ended November 10. First trimester report cards will be issued Friday, November 18. Report cards for elementary school students will be distributed at school. Report cards for middle school students will be delivered by mail.
Thanksgiving recess: As a reminder, this Friday, November 18, is a minimum day for students. The 2022 Thanksgiving break is scheduled for Monday, November 21, through Friday, November 25. All EUSD schools and the district office will be closed.
Work with EUSD: The next EUSD hiring fair is scheduled for 8:30 a.m. to 3:30 p.m. Tuesday, November 29, at the district office, 2310 Aldergrove Avenue. Human Resources team members will guide individuals through the application process for numerous essential full- and part-time positions across the district. Please review the event details and pre-register on Eventbrite. Applicants may be eligible to receive a tentative job offer at the event, contingent upon necessary prescreening and clearances. On-campus and district office positions include paraeducator, nutrition assistant, noontime supervisor, accounting, licensed vocational nurse, bilingual family liaison, teachers, clerical, AVID tutor, speech and language pathology assistant, and more. Employees who work more than five hours a day are eligible for enrollment in EUSD benefits and retirement programs. Find all employment opportunities here.
Committee vacancy: EUSD is accepting applications to fill a vacancy on the Proposition E Independent Citizens Oversight Committee, which is composed of community representatives. The oversight committee is tasked with reviewing expenditures related to Proposition E, a $182.1 million bond measure approved in 2014 to modernize facilities. The ICOC vacancy is for one representative who would serve as an alternate. An alternate member serves only when a quorum is not met without his or her participation. Get the application here. Employees of EUSD, as well as employees of district vendors, contractors, or consultants, are not eligible to serve on the committee.
Health update: This cold and flu season is challenging, with the triple threat of the flu virus, respiratory syncytial virus, and COVID-19. RSV infections are impacting emergency room wait times and hospital capacity, and health officials are warning the flu may be more severe for a longer period this year. As a reminder, please do not send your child to school if they are feeling sick or experiencing symptoms of a virus. Keeping your sick child home will be a great benefit for the health and wellness of our students and employees. The flu and COVID-19 are both spread from person-to-person, especially indoors and in crowded places. Symptoms for both include fever, headache, muscle and joint pain, sore throat, and coughing. RSV is a respiratory virus that has been detected in previous cold and flu seasons. Symptoms of RSV include cough, runny nose, and fever. Flu and COVID vaccines are available at retail pharmacies, public health centers, and community clinics. To find a location, visit the county website or call 2-1-1 San Diego.
– Luis Rankins-Ibarra, Ed.D., Superintendent of Schools