February 14, 2023
Dr. Luis Rankins-Ibarra, superintendent of the K-8 Escondido Union School District, has been named the 2023 Superintendent of the Year by the Association of California School Administrators Region 18, which encompasses San Diego and Imperial counties.
"I am honored and humbled by this recognition," Dr. Rankins-Ibarra said. "I share this with every member of the EUSD team. I believe that this is a great testament to the collaboration and hard work of everyone in the district."
Dr. Rankins-Ibarra is recognized in the nomination as "an infinite-minded leader who has established a true just cause that centers and drives our positive culture and instructional programs. Through his leadership, all team members have embraced the calling to actualize the unlimited potential of every learner."
The nomination takes note of how Dr. Rankins-Ibarra has fostered a culture of risk-taking and support, encouraged the flexibility to innovate, and established shared accountability for results. Under his leadership, the district's programs advance equity, creativity, and purpose for all students, and, as a result, they thrive.
"As a board, we could not be more proud of Dr. Rankins-Ibarra and the fine work he has done in leading the Escondido Union School District," Board President Mark Olson said. "We are grateful to the Association of California School Administrators for recognizing what we have known for a very long time. Dr. Ibarra and his team have led our district through a few very challenging years, and although the work will never be done, we are grateful for his efforts to serve our students and our community. His efforts in leading EUSD are one of the many reasons Escondido is such a wonderful place to call home."
In an education career spanning more than 30 years, Dr. Rankins-Ibarra has served as a bilingual elementary teacher, principal, director, and assistant superintendent in both Human Resources and Business Services. He joined EUSD as superintendent in 2014, and since then, he has nurtured the district's role as a leading pioneer in the use of educational technology, while cultivating a safe, productive, and innovative environment for learning and working.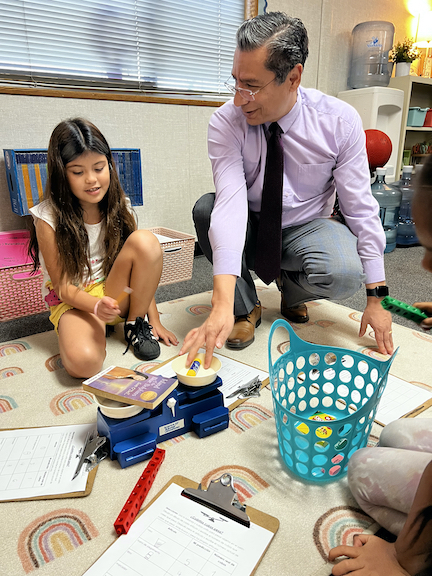 Throughout the COVID-19 pandemic, Dr. Rankins-Ibarra led the district with thoughtful collaboration and meticulous planning, never losing sight of the guiding principle of ensuring the health and safety of students and employees. Under his leadership, employees from every corner of the district worked to close the gaps that EUSD families were experiencing by ensuring ready access to food, technology, internet access, instructional materials, and other resources. In fall 2020, EUSD was among the first school districts in the county to provide in-person instruction when students returned to campus in late September. In the following school year, EUSD opened its 24th campus, Limitless Learning Academy, in response to the need for a continuing virtual learning environment.
Dr. Rankins-Ibarra's forward-thinking continued as he launched the 2022-2023 Design Team last fall with the focus on developing and refining the EUSD school experience for students, working with dynamic facilitators from the Learner-Centered Collaborative to guide us on defining whole-learner outcomes. Just recently, Dr. Rankins-Ibarra shared the exciting progress of this meaningful work in a draft Framework for the Future.
The Association of California School Administrators Region 18, which represents nearly 1,400 educational leaders, advocates for public school students and strives to ensure that school leaders are recognized for their excellence. Through its annual awards program, ACSA honors administrators for their achievements and dedication to public education. Recipients of ACSA's administrator of the year awards are individuals who show strong support for the school management team, exceptional leadership in managing school programs, commitment to educational quality and student achievement, commitment to professional growth, and creativity and innovation in dealing with issues and problems facing public education.
"ACSA Region 18 could not have selected a more deserving recipient for this honor," said Dr. Laura Philyaw, Deputy Superintendent of Educational Services. "In his pursuit of a shared vision of learning and growth for all students, even in the most trying of times, Dr. Rankins-Ibarra has always remained mindful and supportive of employees from all corners of the district who work daily to ensure the success of our students. The district administrative team – myself, Assistant Superintendent of Human Resources Dr. John Albert, Assistant Superintendent of Business Services Andy McGuire, and Chief Technology Officer Leonard Levine – is incredibly proud to work alongside Dr. Rankins-Ibarra in his tireless efforts to support the success of the children of Escondido."