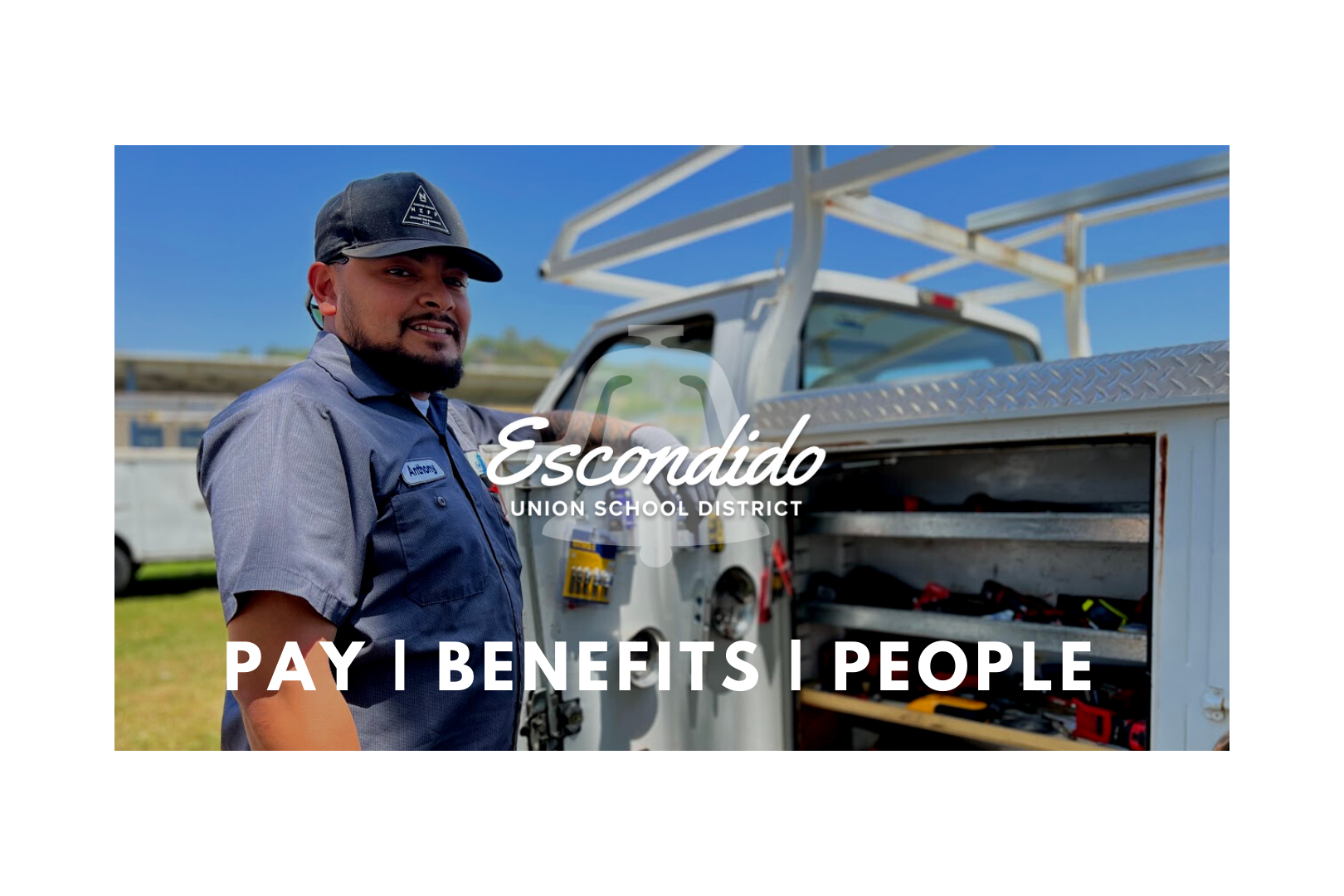 Upcoming Career Fairs

May 9th, 2023 @ District Office (2310 Aldergrove Ave, Escondido CA 92029)

8:30 a.m. to 12:30 p.m. Human Resources team members will guide individuals through the application process, including any necessary prescreening exams, for numerous essential full- and part-time positions across the district. Please review the event details and pre-register on Eventbrite. https://www.eventbrite.com/cc/hiring-events-333139

On-campus and district office positions include paraeducators, nutrition assistants, noontime supervisors, licensed vocational nurses (LVN), speech language pathology assistants, school clerks, behavior intervention technicians, and more. Employees who work more than five hours a day are eligible for enrollment in EUSD benefits and retirement programs. Click here to download an information flyer.

June Date and location TBD

For candidates under the age of 18, this WorkPartners form is to be completed by parent/guardian.
Prospective Employees: Why choose EUSD for your career?
Pay:
In EUSD, we have a competitive salary schedule and provide stipends for individuals who pursue higher education opportunities.
Benefits:
We offer a generous benefits package for full time positions as well as part time (conditional on amount of hours worked). In addition, several positions qualify for retirement pensions.
People:
We are a family here in EUSD and Escondido is a great place to not only work, but to live and thrive as well. The staff are a team, united by our vision to actualize the unlimited potential of every learner. The community of Escondido is less than 30 miles from the San Diego beaches, 40 miles to adventurous Julian, and 30 miles from beautiful Temecula. Higher learning institutions such as Cal State San Marcos and Palomar college are both within 8 miles of Escondido.
We are ready for you to join our team, are you? Click here to view all of our current job postings.
Click Here for COVID-19 Employee Rights information
COVID-19 Employee Rights - Spanish
Looking for a job with EUSD?
As a department, our goal is to assist current employees, prospective employees, and retirees with a variety of HR related services. We pride ourselves on recruiting and selecting the most qualified classified and certificated staff, administrators, and managers to ensure the best education for our community's children. We also want to provide our current employees with the necessary tools and resources as support during the course of their employment as a member of the EUSD community. To assist us in meeting your employment needs, please feel free to provide feedback.
John Albert, Ed.D.
Assistant Superintendent of Human Resources

Amy Lawton
Director of Classified Personnel
Albert Ngo
Director of Certificated Personnel
Some of Our Current Active Recruitments:
| | |
| --- | --- |
| CERTIFICATED | CLASSIFIED |
| SpEd Education Teacher | Paraeducator |
| Social Worker/Counselor | Noon Time Supervisor |
| Substitute Teacher | Nutrition Services Assistant |
| District Rover | School Clerk and/or Bilingual |
| | |