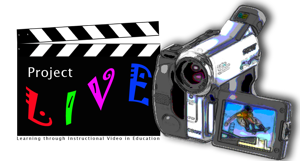 (Learning through Instructional Video in Education)
The goals of Project LIVE are to foster critical and visual literacy skills in both students and teachers to increase student achievement.
Build upon standards-driven instruction that leads to measurable student achievement gains

Foster the use of engaging learning environments

Increase student collaboration and problem-solving skills

Address the requirements of the No Child Left Behind Act.

Project LIVE teachers will be learning to utilize a variety of digital tools from companies such as Apple, Canon, and use of the iPad.
[Note: Project LIVE is no longer operating as an active EUSD group. However this site is lightly maintained for announcements and resources.]
2022 iVIE ANNOUNCEMENT:And the winners are...
Ms. Cruz's 4th Grade, Pioneer Elementary
Best Elementary News Story
Puma News: "Pioneer Playground"
Congratulations to this year's EUSD iVIE Nominees :
Ms. Cruz's Class, Puma News - Pioneer Playground, Pioneer
Mr. Dominguez-Loera's class, Psyched Readers, Farr
Ms. Catalanotto's class, Paws for the News: Get Involved, Juniper
Me, Myself, and I, Director: Emma Rhett, Quantum Academy
Smoke, Director: Julian Flores, Quantum Academy
Bottled Up, Director: Audrey Shulok, Quantum Academy
Martin Luther King, Peacemaker, Jr., Director: Mark Roberts, Oak Hill Elementary
Everyone Student Can Make Videos
A few years ago students needed cameras and access to computers to make videos. Now with the iPad, every student can film and edit their videos anytime, anywhere.
Have a look at our iMovie App for iOS page in EUSD iPad Tutorials. There you and your students will find many helpful links to capabilities like iMovie's incredible new green screen.
PLEASE NOTE, at the bottom of the page, the eBook from Apple: Everyone Can Create Video. With Apple ID's students can now download eBooks to their iPads.
If you have ever felt shy about teaching editing in iMovie, your worries are over. This eBook offers step-by-step instructions, including practice clips to download. Students can do the activities independently, or you can download the Anyone can Create Teacher's Guide (available in upper and early learner versions).
[NOTE: The only activity I recommend that you skip is the iMovie Trailers; It's fine if you are advertising a bake sale, but very limiting for individual student creative expression.]
Everyone Can Create Video also cover the Clips app, which enables dynamic video production, but is much easier to use than iMovie. (Clips for iOS - EUSD)
As always, if you need assistance, contact anyone on the Tech TOSA Team. (Our Calendars)
Project LIVE will offer workshops throughout the year open to all teachers.
Individual support also available, contact Todd Mattox, tmattox@eusd.org
This Year EYMF will offer a Animation Category
Stay-tuned for details