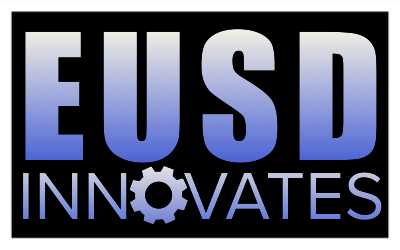 Welcome to EUSD Innovates, professional development designed for teachers by teachers!
Announcement:
This year EUSD Innovates is excited to announce that we will continue our 8 year tradition of hosting a conference created by teachers, for teachers in EUSD. Although the COVID-19 Pandemic will keep us from meeting in person, we will offer this conference via Zoom because innovating and moving forward is what we are all about. We hope you continue to join us this year for another great year of learning together.
When?
March 13, 2021
8:00am-12:30pm
Where?
Via Zoom
Link to the Zoom will be shared with attendees via email.
Schedule of Events:
8:00 Check-in Using a Google Form
8:00-8:15 Mini-Kickoff
8:20-9:10 Session 1
9:20-10:10 Session 2
10:20-11:10 Session 3
11:20-12:10 Session 4
12:15-12:30 Closing